Donoghue Forlines Global Tactical Portfolios
These portfolios are constructed using fundamental research to develop a top-down macro view with a global orientation. The suite of Global Tactical Portfolios enables clients to obtain exposure to all three major asset classes—global equities, fixed income, and alternatives—in a single portfolio using low-cost ETFs.
Diversification across regions and asset classes is critical to long-term investment success—it enables the team to reduce portfolio risk and volatility while producing strong returns. The Global Tactical Portfolios are long-term investments, presenting growth potential and risk management across all asset classes, and are used as the risk-managed core of a client's portfolio. The team invests in liquid, low-cost exchange-traded funds (ETFs) based on a long-term secular view with tactical positioning during the shorter-term business and credit cycles.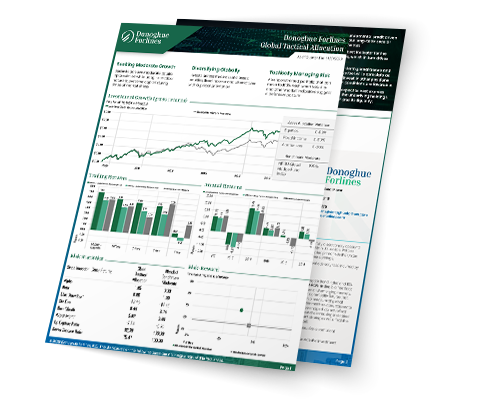 Details and fact sheets about the Donoghue Forlines Global Tactical portfolios are coming soon.